Frequently Asked Questions
Do I need to display a vehicle permit if I or my youth do not plan to bring a personal vehicle?
Youth and/or Registered adult Hunters that do not plan to bring a personal vehicle onto Fort Indiantown Gap or will ride with someone else, will still need to print and display their full permit on the dashboard of the vehicle they are traveling in. A vehicle must be added to an account if at any future time a participant decides to bring a personal vehicle onto Fort Indiantown Gap. (Scroll down and see below about adding vehicles)
How do I register?
Please see the Registration instructions tab on the FTIG iSportsman home page. If you need further assistance please contact the Wildlife Office: RA-MVORP@pa.gov
Why is there a fee?
Access fees go to and fully support the Outdoor Recreation program at Fort Indiantown Gap. They also support the iSportsman online and Kiosk systems providing continued service, maintenance and repairs/replacement when needed. The access fee provides for the creation and maintenance of food plots, trout food and the stocking of Pheasants. It also provides for the maintenance of buildings and equipment needed for the Outdoor Recreation program.
How do I check in to go hunting?
Please see the Checkin instructions tab on the FTIG iSportsman home page. If you need further assistance please contact the Wildlife Office: RA-MVORP@pa.gov Phone: 717-821-3028. Please attempt to become familiar with the online and kiosk systems before the day you plan to hunt. An orientation day may be held at the beginning of each season. Check the Announcements tab for more information.
How do I know what areas are open to hunting?
Click on the Navigation Map tab found on the FTIG iSportsman home page. In the top left there are buttons for "Today" and "Tomorrow" (See below). Click today for the current date and tomorrow for the following. The map will represent what is currently planned as being open or closed for either day you click on. Looking a day ahead for open areas is all that is available at the moment limited by the program available to the Wildlife office.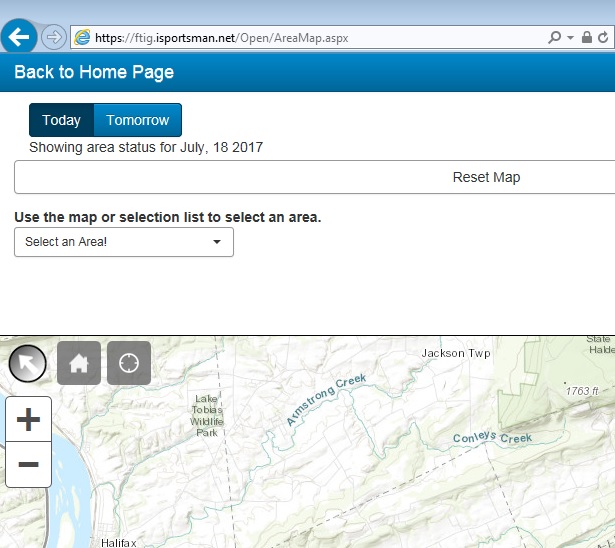 How do I add a second vehicle to my account?
Instructions are as follows: Log on to your account, click on My Account and then Account Details. There is a blue button labeled Manage Account. Click this and scroll to the vehicle field and click add new. You can also add new phone numbers among other options. If you are operating from a mobile platform, these tabs will be found under the dropdown keys.
What if I need more time to Check-out at the end of the day?
We provide 90 minutes after legal shooting time to return to the Check-in station for Check-out. If you are retrieving game and need more time call the Wildlife Cell: 717-821-3028 and let the staff member on duty know you need more time. If the situation allows more time will be granted. If no one answers please leave a message with your name and location.
Why are some areas closed all the time?
Wildlife staff make every effort to have as many training areas open to hunting every day. If an area is closed it is being utilized by military training, FTIG staff, or is a safety concern because of military training. This is an Army National Guard installation. All activities associated with the training of our troops and government organizations come before outdoor recreation opportunities.
How do I know how many hunters are in a Training area I want to hunt in?
Every training area is capped with a max number of hunters allowed checked-in at once. Area caps are posted at the kiosks below the screens. Example: "Rg 38 – 50" means 50 people are allowed to check into training area Rg 38. When you check-in, under each Training Area on the kiosk screen it will list the available slots remaining. So by subtracting that number by the total number allowed you can determine how many people are checked into a Training Area. Since hunters are allowed to pick two areas, number of hunters present may actually be less than what the Kiosk indicate.
What is the Firearms Season Access Permit?
The permit allows access to the corridor during the two weeks of regular deer firearms season. All days of firearms season have a max number of hunters allowed per training area.
The lottery was first put into practice due to an ever increasing number of firearm hunters during the two weeks of regular firearms season. The Lottery only applies to the two weeks of regular firearms deer season and is meant to control the number of hunters that can hunt at once in the Training Corridor (B, C, and D Training Areas). During those two weeks training areas are capped at a specific number of acres per hunter to prevent overcrowding and improve hunter safety during firearms season. A lottery may or may not be used any given year.
Where can I go fishing at Fort Indiantown Gap?
Marquette Lake and Indiantown Run are stocked with trout annually and are open to the general public. Indiantown Run is open to public fishing without a FTIG permit from the Bridge on Wood Rd near the Trout Nursery, though Marquette Lake, to Route 443 south of the spillway. Shuey Lake is also open to public fishing. Fishing in A-21 is now restricted access and by outdoor recreation permit only. All other areas require an outdoor recreation permit, when the area is open in iSportsman, for fishing.
What is DMAP?
The Deer Management Assistance Program (DMAP) is a program run through the Pennsylvania Game Commission that allows private landowners and public land managers to apply for additional Antlerless Harvest tags for their property in order to reduce deer populations. DMAP arrives in the form of coupons that can be handed out to participants in the program and must be redeemed for the actual harvest tag. After purchasing the harvest tag, that tag can only be used to harvest an antlerless deer in the DMAP unit that the coupon is for.
The DMAP unit south of Blue Mountain at FTIG is 643. This unit is comprised of all the "A" training areas and C-01. MAP The DMAP unit north of Blue Mountain at FTIG is 2840. This includes all B, C, and D areas except C-01. MAP Hunters that would like to participate in the DMAP program can acquire up to two coupons a year per DMAP unit. Please see the Announcements tab on the FTIG iSportsman home page or check with the Wildlife Office: 717-821-3028 for where and when DMAP tags can be acquired.
Do I need a PGC Pheasant Permit to hunt pheasants at Fort Indiantown Gap?
Yes. Every adult or senior hunter that is planning to hunt pheasants at Fort Indiantown Gap will need the proper permit from the Pennsylvania Game Commission. The permit is new for the 2017-18 season. This is NOT a Fort Indiantown Gap permit but an addition to the annual Pennsylvania Game Commission hunting license. Junior hunters must acquire the free pheasant permit to hunt.